FREE QUILT PATTERN
ETERNITY HEART QUILT©
For personal use only, not for resale of any kind without the written permission of the artist
This easy to make applique wallquilt has a finished size of approximately 20" X 20". The centre heart, leaf and vine, and four corner hearts are machine appliqued. The rest is simply pieced quickly and easily, even for beginners.
A kit can be supplied for $25.00 (Canadian). Please specifiy "Eternity Heart Kit" on order form.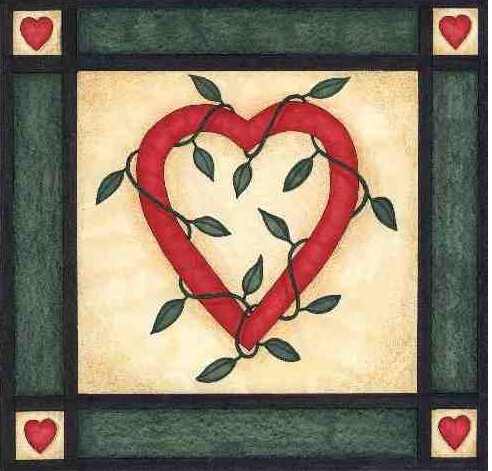 Please read all instructions before proceeding.
Supplies:
Use good quality quilting cottons for best results. Choose the following fabrics:
Beige Fabric .4m Black Fabric .3m
Green Fabric .3m Red Fabric .3m
Cotton Prints for quilt backing .5m
Batting .5m
Fusible Web .5m (paper backed is best)
Regular sewing thread in neutral color and black
Thread for machine applieque to match green, red, and backing
Thread for machine quilting
Machine Quilting needle (optional)
Cutting:
Beige (or light fabric) Cut 14" X 14" Square (centre). Cut 4 - 2 1/4" Squares (for corners).
Green (or medium fabric). Cut 4 strips, 2 1/4" X 14" (2nd border on all sides). Cut 6" X 8" rectangle of green and fuse webbing to back. Cut 7 of each leaf (14 leaves in total).
Black (or dark fabric). Cut 2 - 1" X 14" (1st side borders). Cut - 1" X 18" (1st top and bottom borders). Cut 4 - 1" X 2 1/4" strips (for between small heart block and 2nd border on top and bottom). Note*** You may cut 2 strips 1" X 45" for all border pieces.
For binding. Cut 2 - 3" X 20" Black (side edges) and 2 - 3" X 21" (top and bottom edges). Note*** You may cut 2 strips 3" X 45" for all binding.
Centre Block - Eternity Heart
Tape the two sides (side A and side B) of the Eternity Heart Pattern together, lining up letters A-B-C-D. Use pattern to trace the heart onto fusible webbing. Fuse webbing to back of red fabric according to manufacturer's directions. Cut out large heart and fuse to background fabric (beige). Using matching thread use a satin stitch or applique stitch around the heart, securing it to the background.
Trace, fuse, and cut out 4 small red hearts and fuse to a 2 1/4" background (beige) square. Satin stitch around these as well.
The vines in this pattern are created by satin stitching around the heart, starting and stopping where the vine would go underneath the heart. You may also use bias strips to create this look. Trace, fuse and cut out 14 leaves, according to the pattern. Fuse the leaves in place to the Centre block, matching "X" and "XX", slightly away from the heart to allow room for stems. Satin stitch leaves. If desired, stitch a stem from vine to leaf and/or leaf centre vein.
Putting it all together
Attach the 1st black border (1" X 14") to each side of centre block. Press seams to black border.
Attach 2nd green border (2 1/4" X 14) to sides, pressing all seams away from centre, to the outside.
Attach the 1st black border ( 1" X 18") to top and bottom of centre block.
To complete the block, stitch a small heart block to a 1st black border piece (1" X 2 1/4"). Sew a 2nd green border piece in the middle (2 1/4" X 14"), then another black (1" X 2 1/4") and finishing the row with a small heart block. Press all seams to the green centre, away from heart corners.
Attach one of the above units to the top and bottom of the centre block, careful to match seams (butt up seams against each other). Press seam allowances to black strip (1st border).
Quilting
Layer backing, batting and top and baste, or pin in place.
Quilt as desired - stitch in the ditch, or 1/4" away from each line, or use a combination.
Binding
Fold binding in half, lengthwise. Right sides together and raw edges even, stich to outside edges of quilt. Press binding to outside and fold over to back and machine or hand stitch in place. Repeat this procedure for top, bottom, and sides, or you may use continuous binding, as desired.
Click to print Eternity Heart Side A Pattern
Click to print Eternity Heart Side B Pattern
©Brenda's ARTickles
Please note:
All of the artwork on this page and subsequent pages is my original artwork and is copywrited by Brenda's ARTickles..... PLEASE do not take these graphics......